One key criteria many people have on selecting personality tools is whether they are versatile and hassle-free. From the input of the same questionnaire, our SQI system is able to generate different types of standard and customized reports. Depending on your needs, SQI offers reports in three (3) main categories: Recruitment Selection, Talent Management and Learning & Development.
SQI Reports on Two (2) Continuums
The various reports that SQI offers also lie on two (2) continuums: level of analysis and level of understanding. As SQI's reports are spread out across the continuum, this means that we can cater to a spectrum of needs. Consider how various types of premium coffee differ in their roast intensity, to cater to different segments of coffee-lovers.
Concise Understanding
At one end of the two continuums, the Job-Fit Essentials Report stands at the concise and simplified level. It is a standard report in the Recruitment Selection Category, providing a quick, concise way of understanding a candidate's inclination to display basic job attributes. It is useful for busy hiring managers who have to filter through tons of applications to know at a glance if a candidate is psychologically inclined to stay and perform in an organisation.
Comprehensive Understanding
At the other end of the spectrum, the standard Master Report for Learning & Development allows for more detailed psychological assessment of the candidate. This report provides a comprehensive level of understanding about the underlying causes of an individual's inclinations. This is the most in-depth and detailed of all of SQI reports. In line with the heart of SQI to adopt an ipsative approach, which seeks first to understand an individual's uniqueness.
The other reports we offer lie in between these two continuums (above image).
Crux of SQI's Versatility
The versatility of SQI's reports lies in our 48 traits framework to profile individuals. It can be likened to the 26 alphabets of the English language. Just as various alphabets combine to form different words, various behavioural traits combine to form different observable behavioural inclinations. For instance, traits such as "Perseverance", "Assertiveness" and "Risk Inclination" combine to predict the intensity of an individual's behavioural inclination to "Push through obstacles and make transformational changes". This inclination falls under the attribute of "Innovation".
Depending on the nature of the report, each captures different attributes, observable behavioural inclinations and SQI behavioural traits respectively. We shall illustrate with the table example below.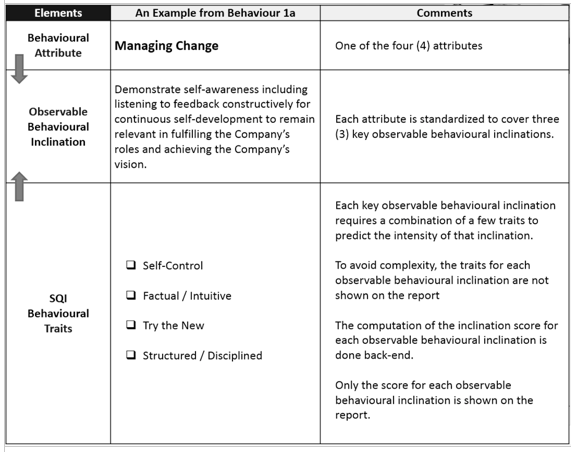 Examples of other attributes we assess include Resilience, Humility, Teamwork, Adaptability. These are not simply traits as there is much more beneath the surface. We assess and measure what is previously ambiguous and difficult to measure, but are important and critical for lasting success.
What would you like to assess and develop for your organisation today?